Hello everyone!
I've created a buble chart at the following to visualise Pneumonia disease from 1912-1951.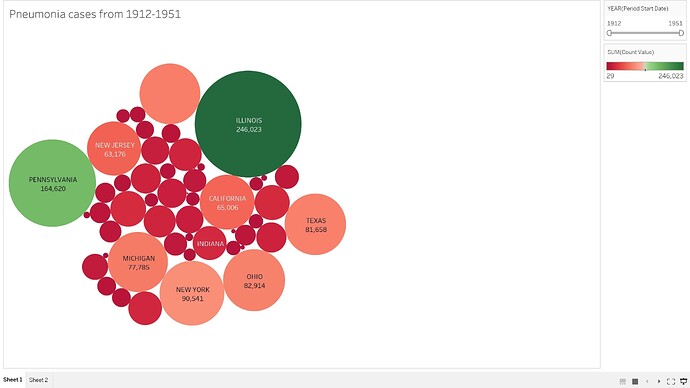 Visual Design Type:
Bubble Chart
Name of Tool:
Tableau
Country:
USA
Disease:
Pneumonia
Year:
1912-1951
Visual Mappings:
Bubbles – different states of the USA
Size – Number of cases happened
Colour – Red-Green Diverging
Unique Observation:
Throughout the first 36 years Illinois and Pennsylvania were always the states that had the most Pneumonia cases. Until the last 4 years(1948-1951), New York and Texas came on top replacing Illinois and Pennsylvania.
DOI:
10.25337/T7/ptycho.v2.0/US.233604007
My question:
Does my visual design make any sense? How in what way can I improve my design?
Thanks in advance!