Hello All!
I am working on an Assignment for my Data Visualisation class at University, and have created a Tree Map example based on Power Plant data globally. I am new at creating fascinating and effective visualisations and would like help and feedback to perfect some of my initial work.
Thank you all so much for your time and suggestions!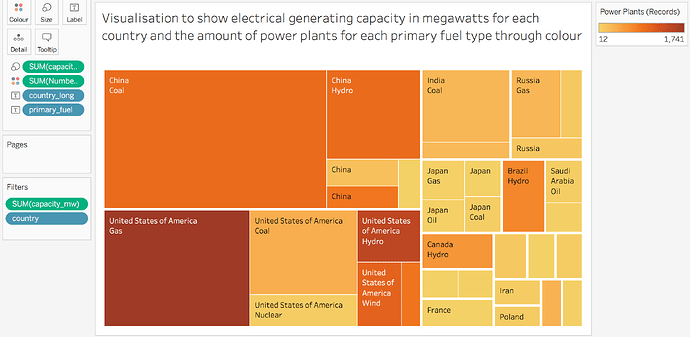 Visual Design Type : Tree Map
Name of Tool : Tableau
Country : USA, China, UK, France, Canada, Brazil, Germany, Spain, India, Russia, Japan, Saudi Arabia, South Korea, Iran, Poland, Norway, Australia, Italy
Year : All available dates
Visual Mappings :
Colour : Total number of power plants recorded in that country
Mark : Square/Rectangle sorted by Country
Size : Capacity(mw). Electrical Generating Capacity measured in Megawatts
Data Preparation:
Filters out countries with low electrical generating capacity, regardless of the country's number of power plants. Added in steps to the colours to allow for easier comparison.
Source : http://datasets.wri.org/dataset/globalpowerplantdatabase
Unique Observations : China has a larger electrical generating capacity (EGC) despite having far fewer power plants. The United States however has the most power plants of any country. The visualisation clearly shows each country's leading fuel type, with China being predominantly Coal, whereas the US is Gas. Despite having very few power plants, Japan has a very high electrical generating capacity. Does Japan's high EGC speak to efficiency in plants over numbers? Newer power plants that are designed more efficiently?
Questions : Does the Visualisation deliver the information clearly?
Is the colour scheme correct?
Is there any way I can improve this visualisation?
Does the size of each section showcase information clearly?
Is there too much information in this visualisation?
Thank you very much for you help!